Social Media Marketing Training in Lagos, Nigeria
Become A Successful Social Media Marketing Expert
W ould you like to learn which social media marketing platform can make the most money for you as a business owner, service provider or digital marketer? Then you need to join our social media marketing training class.
It is a concise training that is not focused on getting thousands of followers (vanity metrics), but on showing you how we make money providing social media services to clients so that you can too.
While everyone seems to be a social media expert, it takes special skills to get results from it. We have designed the different steps to-be-taken to be as practical as possible and in the simplest terms ever for you.
We will use my custom-built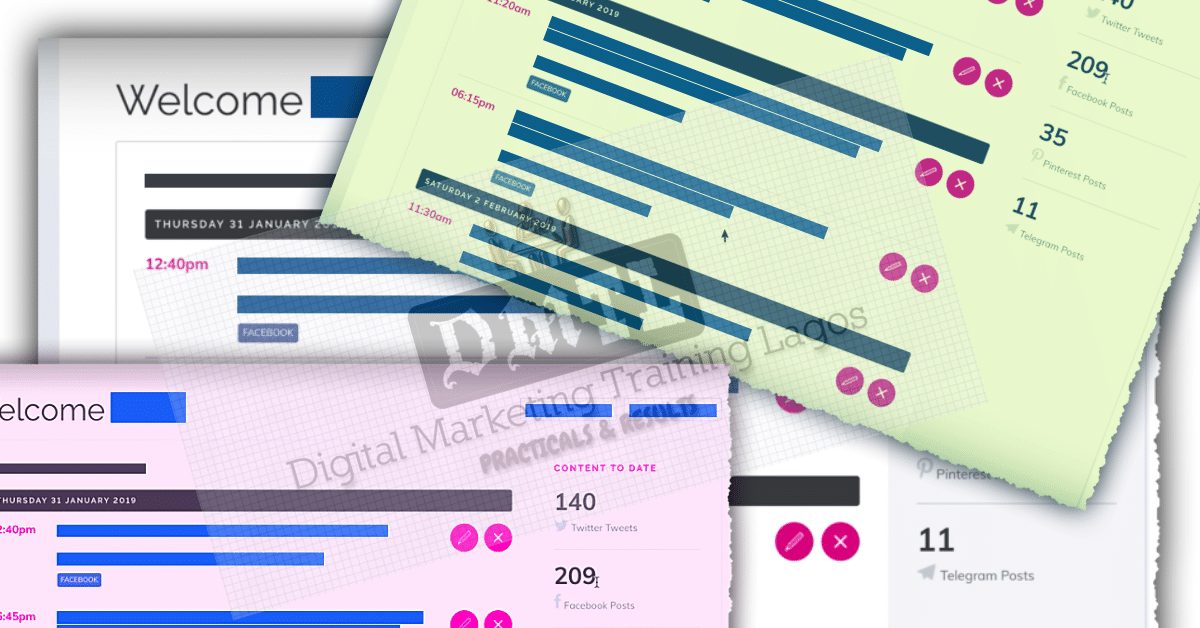 Just like Hootsuite or Buffersocial media management dashboard (with a free one month access worth $300) so that it will be a practical learn-on-the-go class. We will cover all that you need to know to go from being "frustrated to confident"
So if you are looking to get a straight-to-the-point social media marketing training from a team that has provided social media services to clients to pay their bills, you shouldn't waste any more time. Get on the train now.
What Will You Learn From Our Social Media Module?
How to focus on being a profitable social media services provider so that you don't waste your time on vanity (we wasted a lot of ours when we started).
You'll learn how to do affiliate marketing using social media.
You'll be taught how to audit a social media profile, and properly create business pages on Facebook, LinkedIn, Instagram and Twitter.
We'll share with you 25 content creation ideas that will keep your profiles very engaging. You'll also learn how to plan and schedule them accordingly. Plus you'll get a post schedule template you can easily edit from us.)
Social media integration with landing page & website design, content marketing, sheets, Microsoft office and automation. (This is on an expert level with a lot of coordination.)
How to monetise the best social media channels for whatever purpose you have for your company, business or a client. (We have a formula for this that we will share.)
Ability to outline different social media goals and objectives, and to devise a social media strategy based on need. (You'll get our digital agency's social media proposal documents, and a free one month access to my social media dashboard to practise.)
How to use team management tools to provide social media services remotely and for international clients. (This is compulsory if you will be providing services remotely.)
What's more about our Social Media training?
😎
We create social media content strategies for government bodies, and it is entirely different from the conventional way of doing social media. If you work for a local, state or federal parastatal, we will teach you how to do social media for government.
A brand doesn't necessarily have to be on every social media platform. We will teach you which to concentrate on and how to use them to generate high-quality leads.
We will teach you how to monitor and research a brand on the internet for different purposes, and how to use the information you get for your betterment.
You will learn how to provide social media reporting & analytics. (This is hot and being an expert at it will be the best decision you'll make.)
Learn how to create attractive, shareable images using easy and free software that you can sell (we have sold a lot on autopilot.)
We will show you how to run successful Facebook, LinkedIn, Instagram ads for your business using UGC & contents from your platforms. There are some tricks that work.
You will be taight how to use RSS feeds, share industry news, updates and articles on your social media platforms to drive traffic to your website.
We will teach you how to use the very complicated Facebook Business Manager professionally with ease.
Social Media Marketing Services You Will Make Money With.
Practical examples of what you will learn.
Get Started With My Custom-Built Social Media Dashboard
We understand how tough it can be to get coordinated and consistent when managing different social media accounts.
As such, using our custom-built social media dashboard (just like Hootsuite/Buffer), we will show you over the shoulder how to be organized and manage your social media accounts and clients'.
Psst...the dashboard has content research, RSS Feeder, Image Creation, Analytics etc. It's a total banger!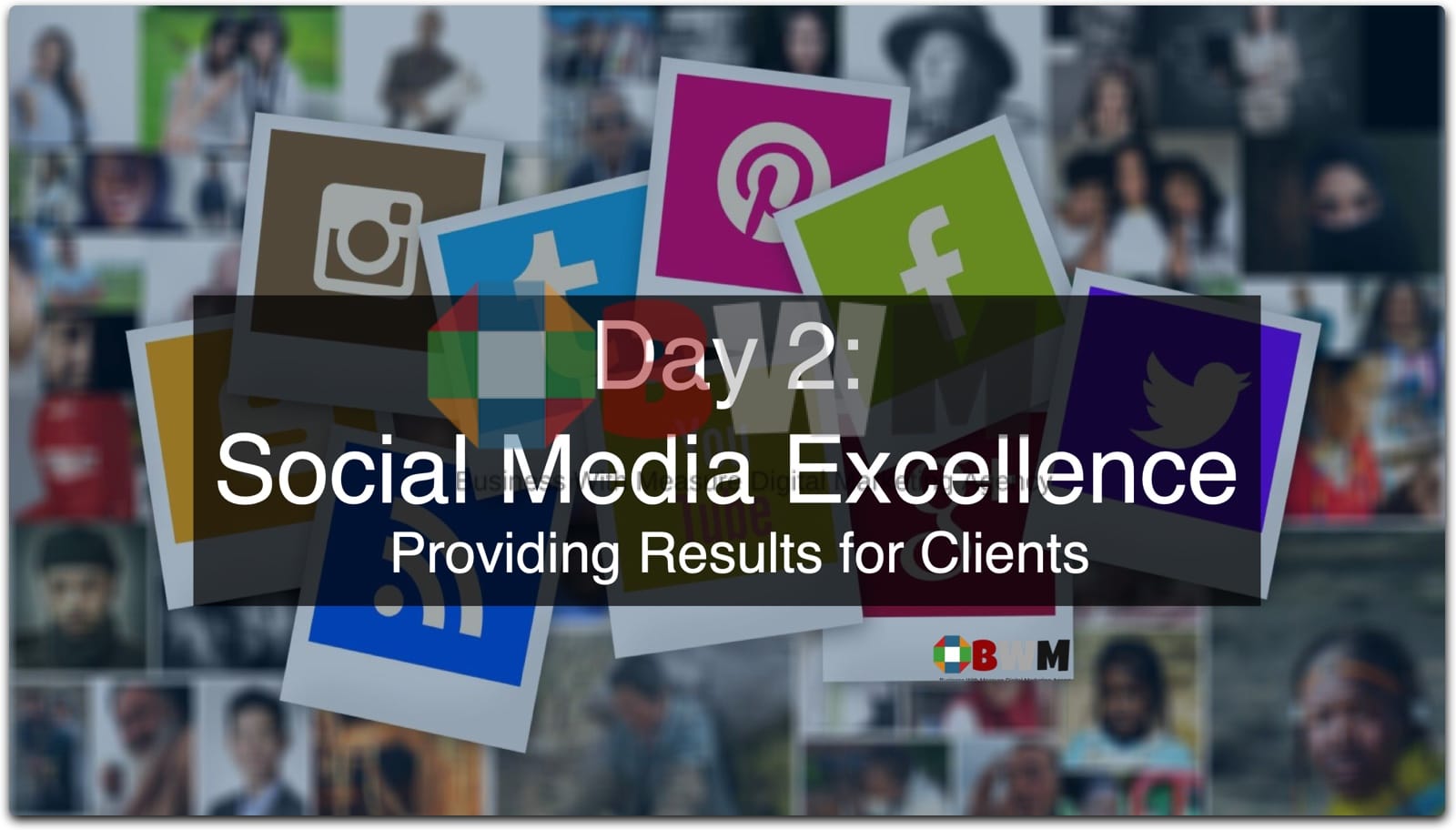 Develop The Best Social Media Strategy For Any Purpose
Your business or client's business model strongly determines the social media platform you'll concentrate on.
It will also determine the tone of your contents, the graphics, the budget, the audience type, and the goal you are trying to achieve.
In our social media module, we will show you how to prepare a social media strategy (same as the one we use in our digital marketing agency) that will fit into any business goal.
We'll cover the pricing, budgeting, calculation, reporting, upscaling, getting clients and producing results for them.
Learn The Trick Behind Creating Awesome Social Media Contents Quickly
For a social media platform to be active, there must be consistent contents on it.
In our social media marketing training module, we will teach you how we created over 1000 posts-schedule and graphics in a month and bulk uploaded them for clients.
We will also show you how we integrate the posts with different productivity tools like Microsoft office, AWS, Trello etc.
These are the practical things people will pay you big money online for and not growing vain followers. Trust us on this.
Who is this Social Media Marketing Training Module for?
Anyone holding a managerial position in marketing.
Anyone looking to boost the reputation of their brand, client's or company's using social media.
For stay at home mums that want to take advantage of technological advancement and make money from home.
Anyone who is in general advertising and wants to integrate social media with email marketing to generate and nurture leads.
Business owners who want to humanise their business and build trust amongst the populace on social media.
eCommerce store owners who want to sell products online and offline.
A digital marketing service provider who wants to profitably provide services to people.
Beginner, intermediate and experts in social media, who want to increase their knowledge of social media marketing.
For anyone looking to be financially independent.
What opportunities are there as a social media expert?
Get a job as a social media manager.
Provide social media services as a consultant.
Register on freelance websites to work remotely.
Affiliate Marketer.
Brand Influencer
Customer Service Officer.
Social Media Analyst and Researcher.
Join some of the business executives from these companies that we have trained.
Become A Social Media Marketing Expert Today!
---
Learn all you need to know about managing the different social networks professionally.